Unbranded
Infliximab

PROVIDES the same affordability and patient support programs as REMICADE®

GET SUPPORT FOR Infliximab
Once you and your doctor have decided Infliximab is right for you, Janssen CarePath will help you find resources to get started and stay on track, including:
*Independent co-pay assistance foundations have their own rules for eligibility. We cannot guarantee a foundation will help you. We only can refer you to a foundation that supports your disease state. This information is provided as a resource for you. We do not endorse any particular foundation. †Janssen Nurse Support is limited to education about your Janssen medication, its administration, and/or the condition it treats. It is not intended to provide medical advice, replace a treatment plan you receive from your doctor or nurse, or serve as a reason for you to start or stay on treatment.
GET STARTED WITH A JANSSEN CAREPATH ACCOUNT
Sign up or log in to your personal Janssen CarePath account at MyJanssenCarePath.com so you can learn about your insurance coverage for Infliximab; if eligible, enroll in the Janssen CarePath Savings Program and manage program benefits; and sign up for treatment support.
If you have any questions, please call a Janssen CarePath Care Coordinator at 877-CarePath (877-227-3728),
Monday-Friday 8:00 AM to 8:00 PM ET. Multilingual phone support is available.

Is there help available to pay for
Infliximab

?
What kind of insurance do you have?

I'm insured through
my job or through a private individual policy (commercial insurance)
Janssen CarePath Savings Program for
Infliximab
per infusion
with a $20,000 maximum program benefit per calendar year.
Not valid for patients using Medicare, Medicaid, or other government-funded programs to pay for their medications. Terms expire at the end of each calendar year and may change. Program does not cover the cost to give you your infusion.

I'm insured through
Medicare
If you are enrolled in Medicare and are using Medicare coverage to pay for your medication, our Medicare Resource Guide provides information on sources for cost support that may be available.
In addition, you may be eligible for the Extra Help Program provided by the Social Security Administration.

I'm insured through
Medicaid
Find out more about Medicaid benefits in your state, including whether you may be eligible for Medicaid.

I AM
not INSURED
If you are uninsured, Janssen CarePath can provide information about independent resources that may be able to help with your out-of-pocket medication costs. Visit JanssenPrescriptionAssistance.com to learn more.
Infliximab

Resources for You

The following resource is available:
Infliximab/REMICADE® (infliximab) Patient Brochure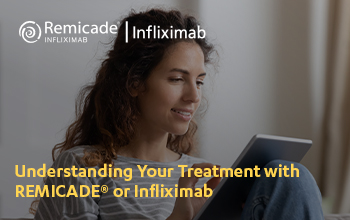 Download Resource